Jurassic World: Dominion Dominates Fandom Wikis - The Loop
Play Sound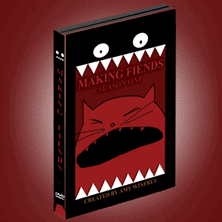 The first season of the Making Fiends web series was published for 10 episodes and one Christmas special between July 14, 2003 and July 9, 2004 on the Making Fiends official website. A second season with 11 more episodes started in September 2004 and concluded in November 2005.
List of episodes
Image
#
Title
Original airdate[1]

1

"New Student"

July 14, 2003

Charlotte moves to Clamburg from

Vermont

. Vendetta, a mysterious evil girl, terrorizes the city. Charlotte is unaware of evilness, and thinks Vendetta is her best friend.

2

"Show and Tell"

July 14, 2003

For Show and Tell, Vendetta releases a monkey fiend, that eats Marion's unicorn toy and throws away Marvin's bananas, but things go awry when Charlotte introduces Buttons, her hamster, to the Giant Kitty.

3

"Vegetables"

August 19, 2003

Charlotte notices that there are no vegetables in the school menu, after Vendetta hears about that, she decides to make some screamy vegetables fiends.

4

"Scissor Fiend"

October 18, 2003

After Charlotte bothers Vendetta too much, so she decides to make her a snipping fiend, but the plan backfires when Charlotte befriends the fiend with love and renames him Buttons 2.

5

"Halloween"

October 25, 2003

It's Halloween and Charlotte dresses up as Vendetta and Vendetta gets the plan to get rid of her by making a fiend that only eats and drinks blood if he eats Charlotte.

6

"Kitty Kitty Kitty"

December 13, 2003

When everyone at school gets confused to the reason of why the school is shaking, it is revealed the Charlotte is brushing the Giant Kitty.

–

"Christmas Bonus"

December 23, 2003

Not an episode; Charlotte and Vendetta sing Christmas songs.

7

"Shrinking Slug"

March 25, 2004

Vendetta makes a slug that shrinks whoever touches it, but when Vendetta and Grudge accidentally get small they make growing squid.

8

"Birthday"

May 19, 2004

Charlotte keeps bugging Vendetta about her birthday. So, Vendetta makes a birthday party with many hazardous things like balloons that tie you very tight, a man-eating birthday hat, a taunting present wanting her liver, and an exploding strawberry birthday cake.

9

"Substitute Teacher"

June 2, 2004

When Mr. Milk is sick, Mrs. Minty, the substitute teacher, is trying to teach the class.

10

"Pet Sitting"

July 9, 2004

Charlotte shows Vendetta her canary and Vendetta lies by saying she is going to Florida so Charlotte can care for her fiends.
Alternate versions
Alternate versions of the episodes are available on the DVD release.
| Episode | Alternate version |
| --- | --- |
| "New Student" | Audio commentary with Charlotte and Vendetta. |
| "Show and Tell" | Audio commentary with Marion. |
| "Vegetables" | All dialogue is spoken in French; translation by Aglaia Mortcheva. |
| "Scissor Fiend" | All dialogue is spoken in Mandarin. |
| "Halloween" | All dialogue is spoken in Japanese, except the theme song; translation by Junichi Ishimura. |
| "Kitty Kitty Kitty" | All dialogue is spoken by a computerized speech simulator. |
| "Shrinking Slug" | Audio commentary with Vendetta and Grudge. |
| "Birthday" | Pig Latin subtitles. |
| "Substitute Teacher" | Audio commentary with Mr. Milk. |
| "Pet Sitting" | Narrated by Big Bunny. |
Background information
Notes