Jurassic World: Dominion Dominates Fandom Wikis - The Loop
Play Sound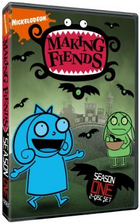 Making Fiends' first season originally aired between October 4, 2008 and November 1, 2008, beginning with the episodes "Charlotte's First Day", "A Fiendish Friend", and "Super Evil".
The season ended on November 1, 2008 with the episodes "Tornado", "The Land of Cheese", and "Pony".
The 2-disc set including the complete season was released on June 9, 2009 exclusively via Amazon.com.[1] The season was made available for download on the iTunes Store on May 13, 2013.[2]
List of episodes
Title card
#
Title
Original airdate

1

"Charlotte's First Day"

October 4, 2008

Charlotte moves to Clamburg from Vermont. Vendetta, a mysterious evil girl, terrorizes the city. Charlotte is unaware of evilness, and thinks Vendetta is her best friend.

2

"A Fiendish Friend"

October 4, 2008

Charlotte loves pretending, so Vendetta suggests she play dead. But when Charlotte "haunts" her day and night, she creates a fiend to keep her busy.

3

"Super Evil"

October 4, 2008

Vendetta is reading her magazine revolving around evil. Charlotte comes and fills out a magazine quiz and gets the rank "super evil". Vendetta only got "mostly evil" and has find out what makes Charlotte "super evil."

4

"Vegetables"

October 5, 2008

Charlotte notices that the lunch lady, Mrs. Millet, only serves Vendetta's favorite food; beef jerky, grape punch, and clams. Charlotte wants to have more vegetables on the menu.

5

"Toupee"

October 5, 2008

Mr. Milk has a crush on Ms. Minty, but he does not know how to talk to her. Charlotte gives him an apple because he is the "best teacher in the whole world". Vendetta decides to give him an evil wig that makes all of his dreams come true, but only if he destroys Charlotte.

6

"Mama Vendetta"

October 5, 2008

To remind everyone how powerful she is, Vendetta erects a giant statue of herself. To keep Charlotte away from her statue, she creates some exploding pigeon fiends which eventually think Vendetta is their mother.

7

"Shrinking Charlotte"

October 11, 2008

Vendetta makes a fiend to shrink Charlotte, but accidentally shrinks herself and Grudge, too. Charlotte is thrilled of being just as small as Buttons.

8

"Parents"

October 11, 2008

Charlotte misses her parents. Vendetta decides to make fiend look-a-likes for her.

9

"No Singing"

October 11, 2008

Vendetta is extremely tired of Charlotte's happy songs, so she makes a fiend to destroy singers. However, Maggie reads a sad poem about a lost kitten, and suddenly Charlotte doesn't feel like singing.

10

"Puppies! Puppies! Puppies!"

October 18, 2008

Vendetta wants to protect all her favorite places from Charlotte, so she uses her "fiend multiplier" to multiply her guard dog fiends. However, Charlotte finds a way to take care of all the fiends - multiply herself.

11

"Shorts: Set 1"

October 18, 2008

An advertisement for Clamburg's onion stand; Charlotte and Vendetta share their versions of the day with their day journals or diaries; Charlotte sings about why she loves Clamburg; a tourism advertisement for Clamburg, sabotaged by Vendetta.

12

"Marvin the Middle Manager"

October 18, 2008

Vendetta decides she's too powerful to sit in school all day. She hires Marvin to run things in her absence and Charlotte decides to help him.

13

"Parentnapped"

October 25, 2008

Vendetta is angry at her parents Violetta and Viktor for going on a picnic with Charlotte. She sends a fiend to bring them home, but he comes back with Charlotte's cheerful grandma, Charlene.

14

"Smash"

October 25, 2008

To celebrate the Pancake Festival, Charlotte forms a band to perform at the parade. Vendetta makes a fiend to flatten Charlotte, but ends up being smashed together with her.

15

"New Best Friend"

October 25, 2008

Vendetta's house got invaded by termite fiends she made to destroy Charlotte, so her house will be tented for three days. Vendetta decides to move in with Marion, just as she is about to leave Clamburg forever.

16

"Tornado"

November 1, 2008

Vendetta makes a tornado fiend to destroy Charlotte's house, but unintentionally attaches it to her own house. Charlotte's antics eventually drive Vendetta insane. Meanwhile, Grudge ventures through harsh environments to get back home.

17

"Shorts: Set 2"

November 1, 2008

A commercial for giant pet supplies runs; Charlotte dreams about a world made out of cheese with her "best friend" Vendetta, which destroys later; Charlotte imagines if she lived on the moon, while Vendetta points out the downsides.

18

"Pony"

November 1, 2008

Charlotte wants Vendetta to make a pony for her, so she makes a giant pony fiend. It rampages through Clamburg and terrorizes the citizens. Vendetta is happy until everyone hides in her house for safety, so she must get rid of "John" the female pony if she wants to get back in her own house.
References