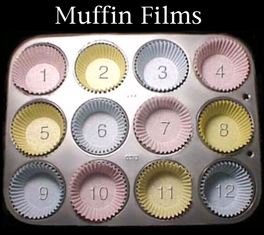 Muffin Films is a web series created by Making Fiends creator Amy Winfrey. The 12 episodes were published from 2000 to 2003, with 6 new episodes starting in May 2010, to celebrate the 10th anniversary.
List of episodes
Edit
Season 1: 2000–2003
Edit
#
Title
Original airdate

[1]|-

1

"Hungry!"

August 23, 2000

A girl eats a muffin. A bigger muffin comes. The big muffin eats the girl.

2

"U.F.M."

November 9, 2000

Alien muffins come to earth, planning to take over. They unintentionally land on a bake sale table.

3

"I Dream of Muffins"

December 8, 2000

A dream sequence about muffins.

4

"Pssst..."

April 4, 2001

A girl meets a group of talking muffins who wish to be eaten. They try to convince her to eat them.

5

"Muffinesque"

July 9, 2001

A stop-motion animated film.

6

"The Muffin Tree"

November 30, 2001

One day, a little girl finds a muffin tree. After she eats a strange type of muffin, she dies.

7

"M"

March 25, 2002

A girl meets a muffin that doesn't want to be eaten but she eats him anyway.

8

"Feed Me"

November 25, 2002

An interactive game in which you feed a woman different muffins before she dies. If you overfeed her, she dies.

9

"Beware"

January 23, 2003

Old Man Muffin wants revenge for someone eating him.

10

"The Muffinless"

March 20, 2003

A young boy has never eaten a muffin and really wants one.

11

"Bluebirds in Spring"

November 21, 2003

Two muffins saying random things in French to each other.

12

"Muffinale"

December 15, 2003

Muffins from all the films sing to a girl after she says "I don't like muffins."
Season 2: 2010
Edit
#
Title
Original airdate

13

"Mini Muffins"

May 12, 2010

A group of "Mini Muffins" annoy a girl.

14

"Lines"

2010

A stop-motion film with muffins sliding on electrical wries. At the end, they get wings and fly away.

15

"Nothing"

2010

On a farm, a narrator tells the audience what the animals say, but acknowledges that the muffin says nothing, no matter what the circumstances are.

16

"Variety Mix"

2010

A live-action clip where muffin seeds are planted and grown to muffins. The muffins then walk around in stop-motion, but are caught in a trap set up by the person who planted them.

17

"Feral Muffin"

2010

A story of an angry, feral muffin. All the other kind muffins leave him and gets to go to a farm. Feral muffin is not interested in going to a farm and is left alone. With nothing to do, he educates himself to an air condition engineer and makes a successful career.

18

"Muffin Parade"

2010

A parade of muffins.
References
Edit
↑ Air dates have been found by using the Internet Archive Wayback Machine.
External links
Edit