News
April 1, 2015: A new short web episode is uploaded to Amy Winfrey's YouTube account, titled "Baking Beans".
September 22, 2014: The 2014 Making Fiends Art Contest is open for entires until October 6. Source
September 16, 2014: Amy Winfrey reveals via her newsletter that she is developing a new television series.
---
Featured article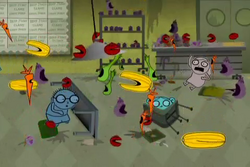 "Vegetables" is the fourth television episode of Making Fiends, originally broadcast on October 5, 2008 along with "Toupee" and "Mama Vendetta". Written by Madellaine Paxson and based on a story by Amy Winfrey, "Vegetables" is a remake of the 2003 web episode of the same name. In the episode, Charlotte notices that the lunch lady, Mrs. Millet, only serves Vendetta's favorite food; beef jerky, grape punch, and clams, so Charlotte wants to have more vegetables on the menu.
(more...)
---
Selected picture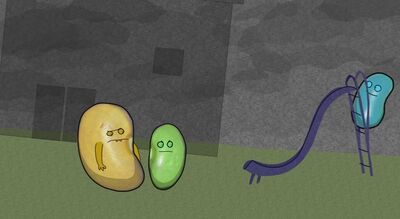 "Baking Beans" is the twenty-third web episode overall and the third April Fools-themed episode, following "April Fool's" (2005) and "Making Friends" (2012).
---
Did you know...
---
Community links
Internal
External
Wikis
Dear stupid journal
Create blog post
I've noticed that on some pages, theres a section for either "Fiendish Trivia" or "Background information." Both serve the same purpose, but have different names and could throw off some newcomers to…

Read more >

Hello, I know about the web series.

I watched the full thing.

Do you need any help with that?

Read more >
See more >