Welcome to the Making Fiends Wiki forum! This forum can be used by members of this community to discuss topics related to this wiki. The forum is split into different sections. Before posting your query, make sure it is posted in the right place.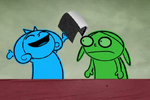 Clamburg is for discussions of community business.
Mu Elementary is for general series content questions/discussions.
Help desk is for new users to get answers to their editing questions.
Issues concerning specific articles should be addressed on that article's Talk page, not in a forum thread.